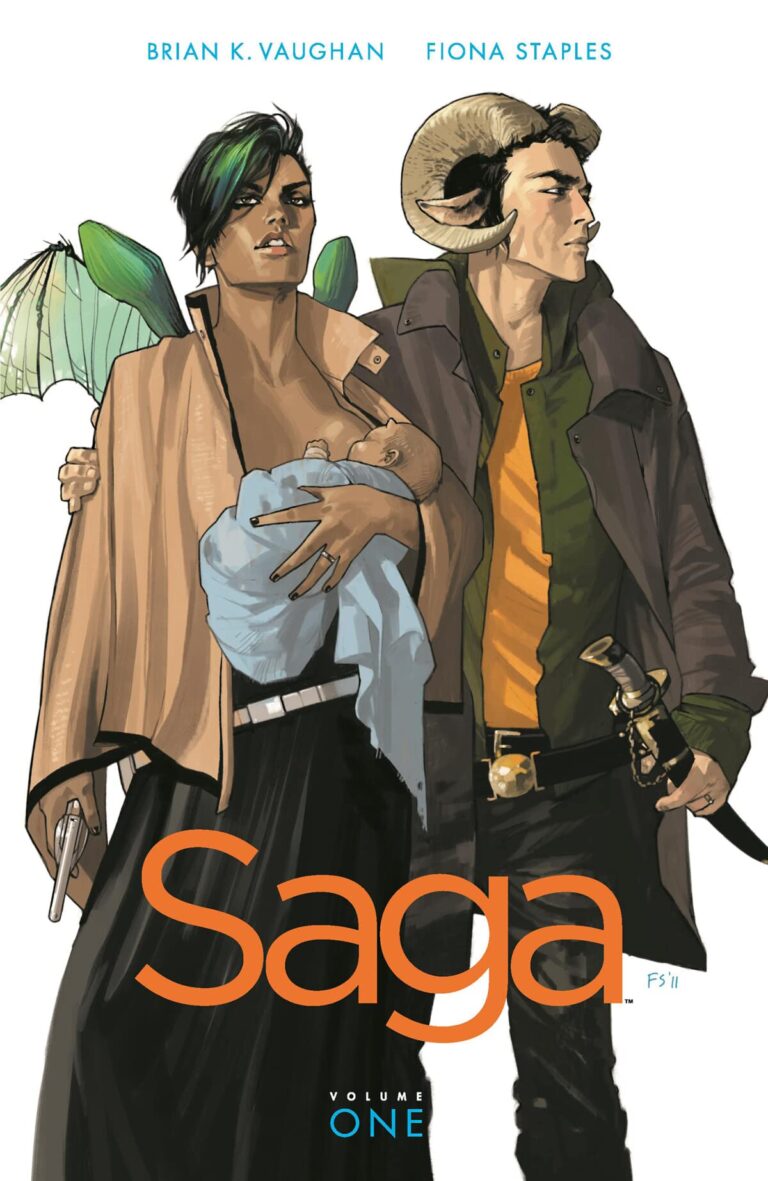 By Brian K. Vaughan and Fiona Staples 
Collects Issues #1 – 6

Publisher : Image 

Release : 10/10/2012

Softcover : 160 pages

Dimensions : 6.5″ x 10.1″

Reading Age : 17+ years

MSRP : $9.99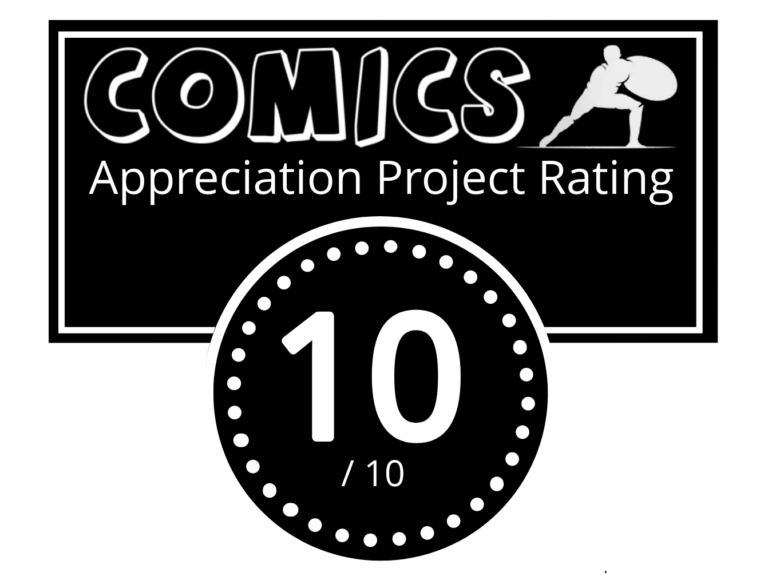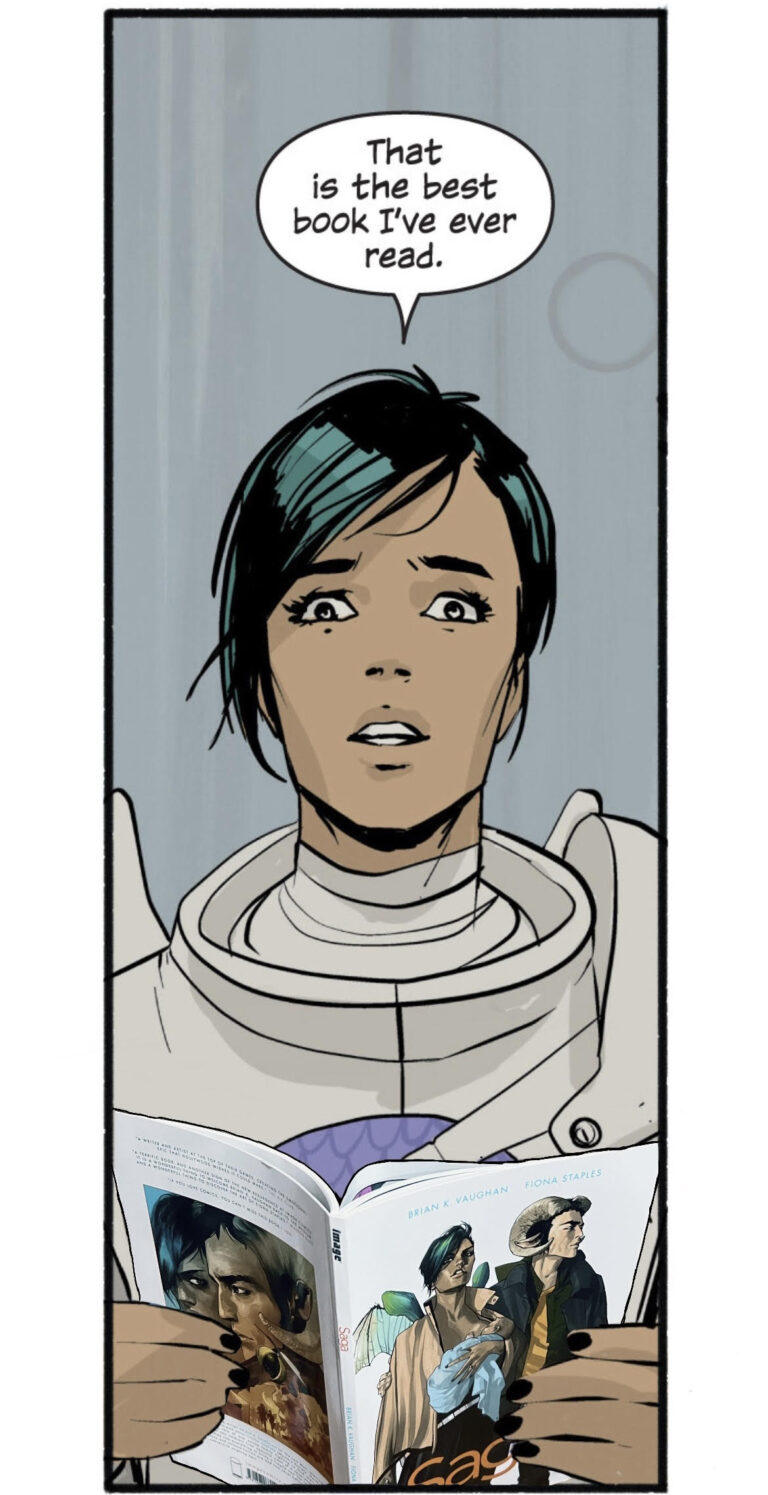 A Modern Classic & Era-Defining Influence
Saga is an epic space opera written by Brian K. Vaughan and illustrated by Fiona Staples. The ongoing series was first published by Image Comics in March of 2012.
The series follows the story of Alana and Marko, two lovers from opposite sides of a long-standing intergalactic war between the planet Landfall and its moon Wreath. Alana is a former soldier from Landfall, while Marko is a former soldier from Wreath. Alana and Marko, decide to run away together with their newborn daughter, Hazel (who serves as the narrator of the series). They are pursued by various factions who want to capture or kill them due to the existence of their relationship and child. As they travel across the galaxy, they encounter a wide range of fantastic characters, including other refugees, bounty hunters, robots with emotions, and talking animals.  
Brian K. Vaughan has been praised for the story's humor, character development, emotional depth, and complex world-building. The series features characters of various races, species, genders, and sexual orientations, and it explores issues of identity, prejudice, and discrimination in a nuanced and thought-provoking way. Fiona Staples' artwork is regarded for its detail, vibrancy, and imaginative designs. The series has also become known for its bold and unapologetic approach to graphic depictions of violence and sexuality, which are integral to the story's themes and character development.
Many fans and critics have hailed Saga as an instant classic and an era-defining influence for modern comics. It has been credited with helping to expand the audience for the medium beyond its traditional demographic. Its influence can be seen in the many comics and graphic novels that have followed in its wake, and it has helped to push the boundaries of what is possible in the world of comics.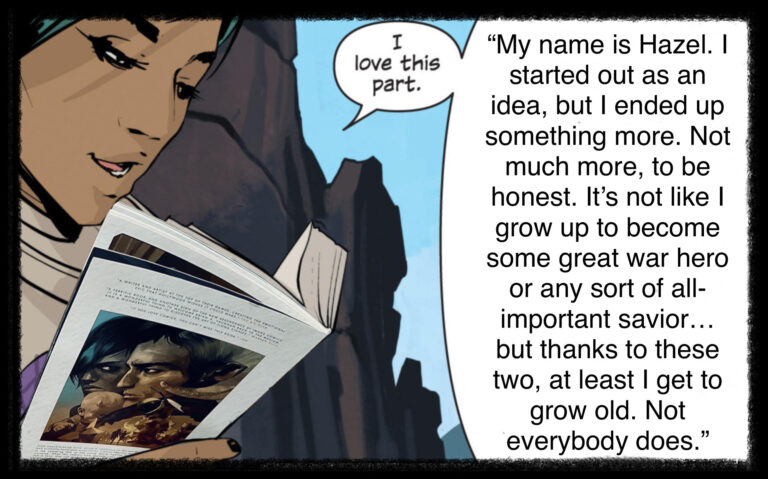 "I knew that this was going to be a book about family but it wasn't going to be quote unquote "family friendly". I really wanted to do something that sort of pulled no punches and was really an adult sophisticated take on war and life in our modern world."
Critical Praise and Recognition:
The series achieved some amazing milestones sweeping "Best Continuing Series" at both the Eisner and Harvey Awards for three years in a row between 2013-2015. In all, the series has received over thirty industry awards. 
Co-creator, Fiona Staples, did all the cover work, interior pencils, inks, and colors. She amassed a dozen industry awards for her work on Saga between 2013-2017. She became the first female to ever win the Eisner for "Best Cover Artist". Additionally, she is only the second female to win the Eisner for "Best Penciller" (her fellow Canadian and fellow Brian K. Vaughan collaborator, Pia Guerra, won the award for her work on Y: The Last Man).  
Check out our custom Shelf-Talker for use with product marketing and display: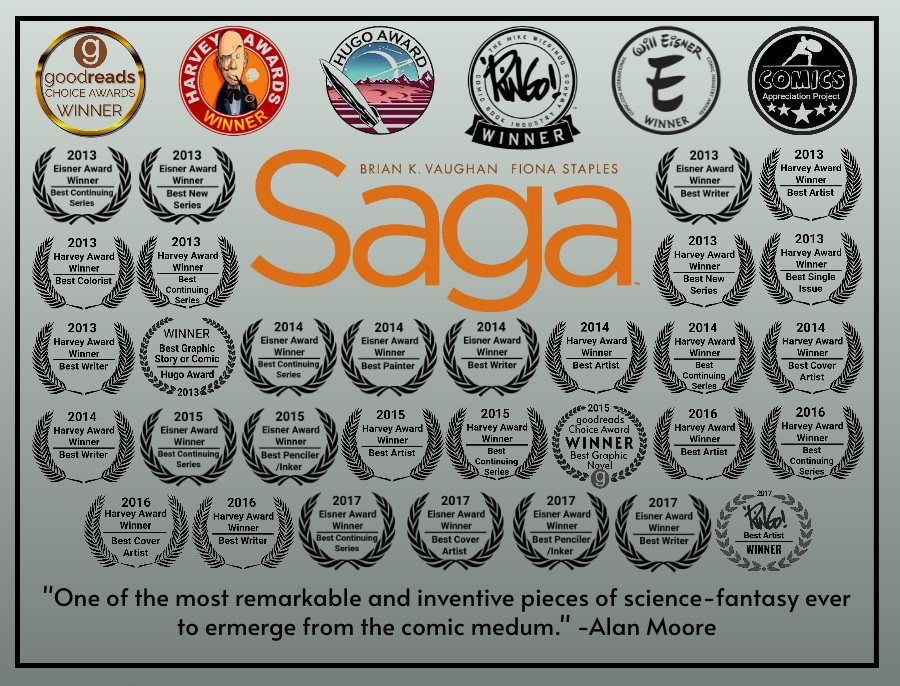 Saga has been plotted as a complete 108 issue story. The series took a hiatus after issue 54 in July of 2018 and did not return until January 2022. The two creators decided early on that they would never use fill-in artists and explained their extended hiatus:
"It took seven years to get the story to this point, and being under intense deadline pressure nearly the whole time was starting to wear me out....and Saga's increasingly heavy themes began to hit close to home! It felt necessary to take a step back and let the book and ourselves breathe for a bit."
Check out an interview with author Brian K. Vaughan:
I previously consumed this series piecemeal as the trades were released (up until their hiatus). I just went back for the first time and reread them in succession (one volume per night). The characters, setting, and themes had always stuck with me, but I genuinely forgot how amazingly well executed this series is rendered. Two masters at the top of their craft. Heartfelt character investment mixed with shock and awe in every issue. Because of the graphic nature of the content, its not necessarily for everybody…but it is definitely worth all the praise.