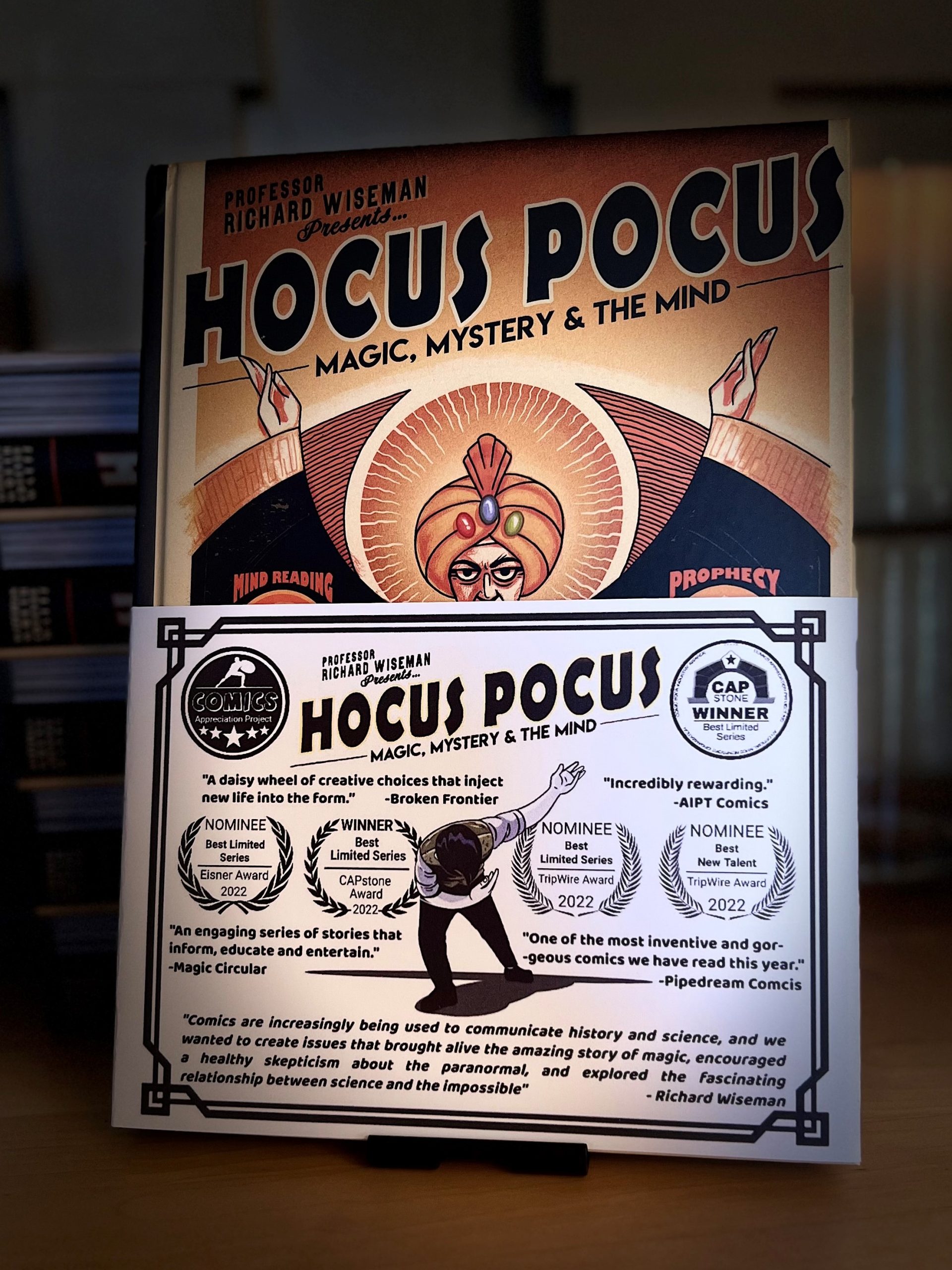 By Rik Worth, Jordan Collver, Owen Watts, and Richard Wiseman 
Collects Issues #1 – 5 

Publisher : Vanishing Inc. 

Release : 1/27/2023

Hardcover : 179 pages

Dimensions : 7.5″ x 10.25″

Reading Age : 12+ years

MSRP : $49.95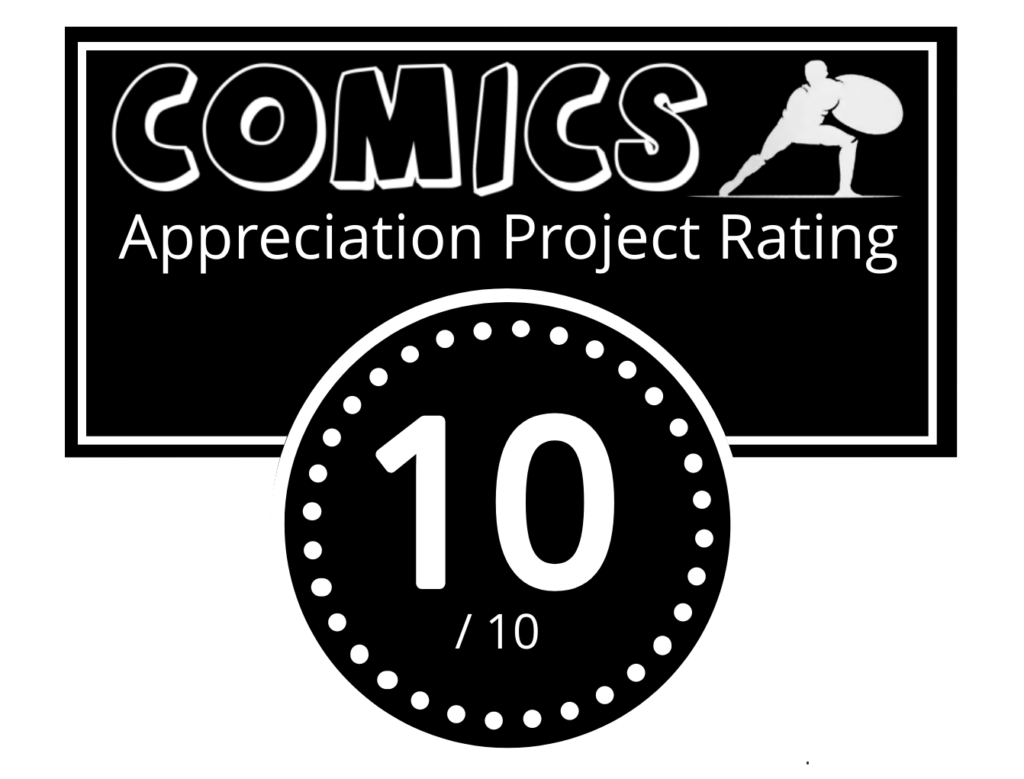 Top 20 Indie Comics of 2021 by Pipedreams
2022 Eisner Nomination for Best Limited Series
2022 Tripwire Nomination for "Best Limited Series"
2022 Tripwire Nomination for "Best New Talent" for Rik Worth
2022 CAP-Stone Winner for Best Limited Series
Hocus Pocus provides a fun and entertaining reveal into the rise of stage magic, illusion, and the fascination surrounding the supernatural in the 19th and early 20th century. The magic and mystery books were originally self-published as a five issue series beginning in 2020. The creators partnered with Vanishing Incorporated to complete the beautifully collected hardcover in 2023.
Through clever insight, wit, and interactive play, Hocus Pocus is a delight reflecting both the breadth and quality that exists in the modern form of graphic story-telling. Writer, Rik Worth, often breaks the fourth wall in entertaining ways only possible through graphic storytelling.
"The way we frame it and execute it, it just it feels right for a comic because there's no other way to do it, so we just do what feels like a mind reading trick..we were surprised how well it worked."
Artist, Jordan Collver, does a masterful job of capturing people and using creative elements to move the story. The series benefits from the aid of accomplished magician, Professor Richard Wiseman (serving as a Creative Consultant). Combined the creative team was able to execute a truly interactive graphic experience while presenting an homage to the genre.  
"Comics are increasingly being used to communicate history and science, and we wanted to create issues that brought alive the amazing story of magic, encouraged a healthy skepticism about the paranormal, and explored the fascinating relationship between science and the impossible."
I sought this series out after it received a 2022 Eisner nomination for "Best Limited Series". At the time, Hocus Pocus was up against arguably the strongest category we had seen in years (Beta Ray Bill: Argent Star, The Good Asian, The Many Deaths of Laila Starr, Stray Dogs, and Supergirl: Woman of Tomorrow). The Hocus Pocus nomination was truly remarkable considering it had been nearly twenty years since a self-published limited series had received an Eisner nomination (see Nat Turner by Kyle Baker). Unfortunately, at the time of voting I had to read the series as a pdf since some of the early issues were sold out and the collected edition had not been released. Many of the books interactive elements involve physically turning pages.
At the time, I had never read anything quite like Hocus Pocus. The book somewhat struggles with identity as it suffers limited distribution mostly through specialty magic shops (rather than through traditional comic shops and booksellers). It also carries a pretty hefty price-point of $49.95 (but for that price you do get a beautifully bound hardcover with bonus materials and free shipping to the US). However, for that price-point, I would have been happy had the publisher offered signed editions.
Fans of the work would likely enjoy the Comic Book History of Comics series by Fred Van Lente (Author) and Ryan Dunlavey (Artist). Both series make learning non-fiction fun through their quirky, insightful, cartoony style with a lot of witt and unconventional narration. If you liked Hocus Pocus and the genre, I would also recommend either watching Derek Delguadio's In & Of Itself on Hulu or reading his memoir Amoralman. 
One of our favorite reads in years. Oddly enough, its niche subject matter makes it even easier to recommend to friends. It was refreshingly entertaining to experience a project that so clearly embodies the full range and power of modern graphic story-telling. 10/10
"Hocus Pocus brings a few disciplines to the drawing table besides solid sequential art storytelling, offering vignettes of historical mind-reading techniques and a bit of insight into those who attempted to understand such powers...incredibly rewarding."
"The series has had one hell of a year...the series has looked at mind reading, séances, ghosts, and predicting the future...with interactive elements including reading minds, creating apparitions in the corner or your eye and having the reader shine a literal light into the darkness of the séance room."
"You don't even need to focus on narrative here to see what a joyous celebration of the potential of the medium this is. Panels used to enhance theme and mood with a meta flourish."
"It was refreshingly entertaining to experience a project that so clearly embodies the full range and power of modern graphic story-telling."
"As enthusiastic and welcoming as it is wry and discerning… every page fizzes with this benign conspiracy of magic revealed and celebrated… It's unlike any other comic I've read."
"An engaging series of stories that inform, educate and entertain."
"From the very first page, Hocus Pocus is a truly mind blowing read… fascinating and often hilarious… utterly magical… one of the most inventive and gorgeous comics we have read this year… you would be out of your mind not fall under its spell!"
Check out our custom "Shelf-Talker" for use with product display and marketing: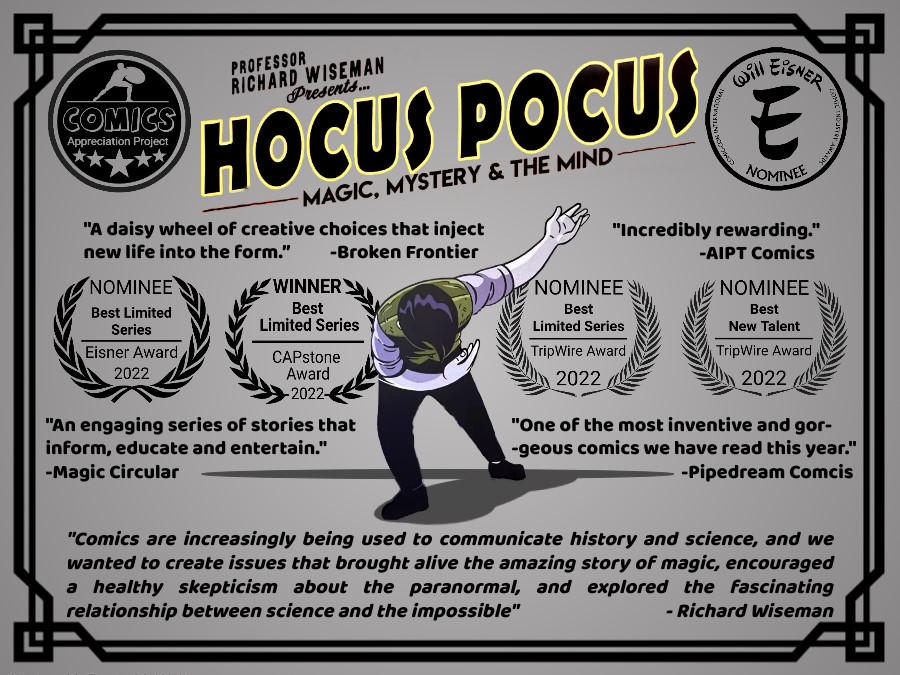 Like what you've seen so far? Check out the official book release trailer from the publisher: